Description:

Don't neglect your feet. Statistically, they are the appendages people tend to use most often but take care of the least. And if you don't take good care of them, you can suffer from various nasty conditions, such as chronic pain, aches, and poor blood circulation.
The EMS foot massager we offer is perfect for deep, thorough TENS massages. It will reduce any swelling, increase blood circulation, and get rid of any aches or pain.
Just 15 minutes per day may help maintain healthy leg circulation, provide fast-acting relief from swollen legs and feet and ease tired, aching legs. Allows you to sit back, relax, and let the Foot Massager go to work while you are reading, watching the TV, or enjoying a cup of tea.

Each session on your EMS foot massager lasts 15 minutes and can be carried out from the comfort at your home.

While this massager is great for chronic pain in your feet, it's not for everyone. We advise that you seek out other options if you:
Have a pacemaker or cardiac problems
Have undergone surgery recently
Are pregnant
Suffer from extreme varicose veins
Have any type of sensory nerve damage.
How to Use:
Fully charge the massage device before the first use
Install the massager on the foot mat.
Place both feet on the mat.
Press "+" to switch on. Press "M" to switch between six modes.
Cleaning the foot mat
When cleaning the foot mat, please turn off and detach the massager.
Wipe with neutral detergent with a soft cloth during daily maintenance, do not use corrosive detergent, and don't place it into the water for soaking or washing.
When it is particularly dirty, use a little medical alcohol (75% concentration) to wipe.
Recharging the main device
Plugin micro USB cable to the main device.
There will be a red light indicating the device is charging.
The red light will turn off when the device is fully charged.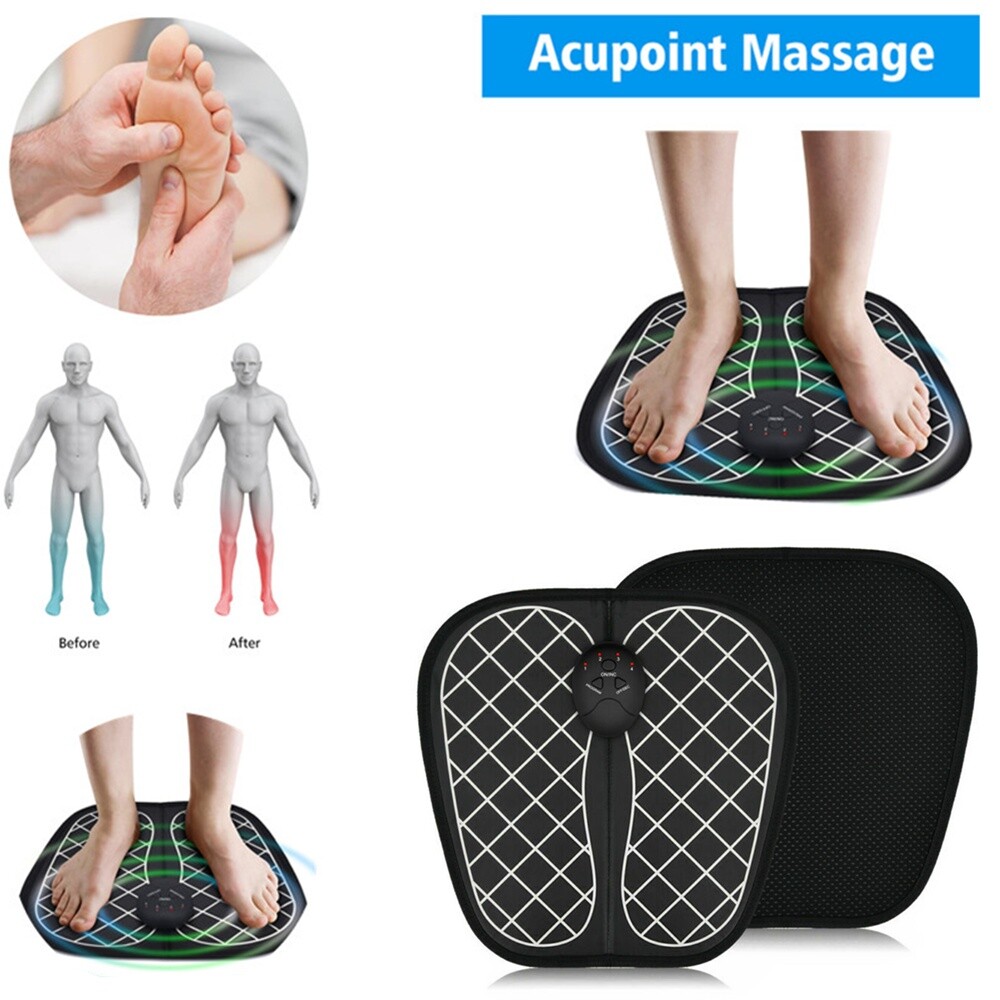 Package Includes
EMS Foot Massage Unit
Foot Massage Mat
Micro-USB Charging Cable
User Manual